Business relocation & installation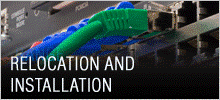 Planning and executing an installation or office relocation is an essential process to minimise business down time when it comes to telecommunication technology.
Cooper Communications range of professional services provides a seamless and successful execution of your telecommunications solution.
Our staff is 'all ears' on analysing your specific requirements and configuring a system that will meet both your current and future needs, recommending what you need, not what you don't.
Our aim is to ensure that the system installed in your business is practical, flexible and will maximise the value of your telecommunication investment.
Please contact us on 1300 972 104 if you are relocating your business