Conferencing Solutions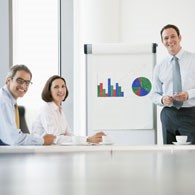 Conferencing Solutions For Your Office Without The High End Corporate Cost
The OfficeServ Conference Bridge provides a fully featured voice conferencing solution for up to 24 simultaneous parties that expands upon the in-built 5 party conference capability on the OfficeServ 7000 range of systemsmo
OfficeServ Conference Bridge is compatible with the OS7200S, OS7200 and OS7400 systems. Each module will support up to 24 conference channels, either in one conference or multiple smaller conferences. Conferences can be recorded with the on-board recording facility that has a recording capacity of 50 hours and also can record up to 6 conferences simultaneously.
3 Types of conference supported;
AD-HOC
The Ad-Hoc conference is as its name suggests not premeditated. The person setting up the conference; the conference supervisor, dials the individual participants to the conference and then connects all members together.
MEET-ME*
A Meet-Me conference is reserved in advance; participants then dial in on a pre-set number and are greeted by the system. A welcome greeting is played followed by a prompt to enter a conference PIN code from their phone. When the correct code is dialled the participant is connected to the conference. The Meet-Me conference is initiated by the conference leader, by using the web interface, this reserves a conference room for the right number of people and sends each participant an e-mail with the conference number, start time, duration and access number. The processes are automated and simplified from within the Conference Bridge.
All participants will dial in on the specified number at the set time, enter their details and wait, when the conference organiser joins, the conference will start and the speech paths between all participants will be opened up.
* Meet me conference is not supported on analogue trunks
PRE-DEFINED
This is a more rigid and pre-programmed conference to the Meet-Me. A number of conference groups are pre-configured in the system. Up to 100 groups can be programmed, each with a maximum of 23 members. This allows for a simple and quick set up of a regular conference. When the conference is initiated by the supervisor all members are called simultaneously by the system and added to the conference.
BENEFITS
Conferencing is becoming an important business tool, the ability to quickly and efficiently set up audio conferences to keep team members up to date with information can often make a big difference. At best out-of-date information is useless, often it is damaging. This is where conferencing solutions come into their own.
The Conference Module enables your OS7200 and OS7400 system to provide this conferencing functionality and give you total control of who is using it and when, also by not using an expensive hosted dial-in service, costs are in your direct control.
Big system functionality small system cost is our philosophy, why should large corporations have access to all these beneficial tools for doing business.
Samsung has successfully developed many applications that have all the required functionality but are scalable so that small groups of users can cost effectively deploy highly functional applications normally associated with big corporations and high costs.
Conferencing solutions are now in the reach for you and your office, so call us today to speak with one of our expert consultants regarding your conferencing needs.